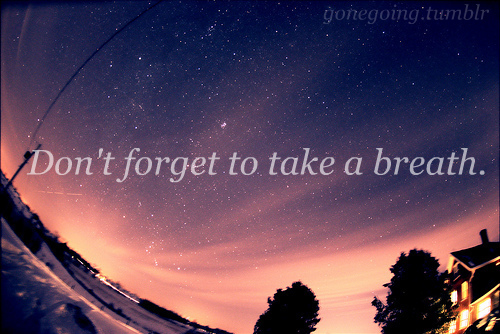 "Here are the places of my youth.
Here are the things I've tried to forget.
Here they all are, spread out around me, and it's like I've never left.
Here is where it began.
And here is where it begins again."
Oh Tyson. Poor, poor Tyson.
The Kid is in a bad place, I guess it's not really surprising that the events of Ty's past have begun to weigh heavily on him. Ty is lost, lost and confused and his way of dealing with his ghosts really isn't working.
'The Art of Breathing' is more than Ty and Dom's story though, it like what has come before is a story about family, about brothers but it is also a story about a boy trying to become a man, Ty has always been old beyond his years and because of that I think he is stunted emotionally. For someone who, like his brother, talked incessantly his inability to communicate was outstanding. I wanted to shout at him. I wanted to shout at him so bad. But as with Bear I can understand why he is the way he is. It's easier to push people away, to be the one who leaves, than to be the one left behind. And when you were left behind at five years old by someone who is meant to love you unconditionally I guess running and pushing away the people you love before they do it to you is understandable.
Ty and Dom's relationship was a frustrating one, it was also a thing of beauty and a thing of heartbreak. Two broken kids meet in the most adorable (and gross) way and become best friends. They become each other's cornerstone, they become family and eventually they become each other's everything.
"Bear may be my rock, but Dom is the force that moves me."
"Because it has always come back to you. Without you, I didn't have a home. Without you, I was barely breathing."
But as is the way in the world of Bear, Otter and the Kid, Ty and Dom take the hard road. Seriously I'm all for the angst but I thought I was going to have to smack some people up the side of the head. TJ Klune is mean, he made me not want to put down the book, because I really, really, REALLY needed to know how things were going to go. I almost cancelled a night of wine with my girls because of this book. I think TJ is a magician of some kind, or a warlock, or (this is closer to the truth) a freaking awesome writer. I am invested in these people now. I'm a little bit in love with each and every one. They are completely crazy and over the top and oh my goodness but they are the best. Add to this crazy bunch the beautiful and fabulous Corey/Kori and the awesomeness of all from 'Tell Me It's Real' and it's just one big bag of crazy beautiful. So much fun and also so sad.
Ty's constant. The person who won't allow him to be completely on his own is Bear. Bear has passed his crazy onto Ty and when I started this I really thought I was going to miss Bear's voice, but fear not, Ty is even more neurotic than Bear. Their relationship is totally co-dependant but I'm not sure it could ever have gone any other way.
"We're little guys, he and I. Just little guys."
'The Art of Breathing' is tough to read at times and it's frustrating but it is also hopeful. Obviously the major theme throughout this is the art of breathing. Knowing TJ and his fiancé Eric's story makes this theme both beautiful and heartbreaking.
Ty and Dom's relationship is complicated, it drove me crazy, their inability to sit down and talk about their feelings was so annoying but you know what? It's a really lovely story. The reason it doesn't get 5 stars is because I spent most of it frustrated and also like the first in this series, this book sets us up for Ty and Dom's part two. I need that book, I can't wait to get it and after that cliffhanger if I don't get it within the next year I will chain TJ to a desk. Just so you know.
So.
Dom and Ty?
It's inevitable.
"Friends until we're old and gray.
Beginning to end, day after day."
Update 19 January 2015:
Oh, oh, oh! So it looks like I won't have to chain TJ to his desk, by the looks of it he is going to do that himself. According to his Facebook page this is his 2015 schedule and book four set to be completed in December. Fingers crossed!
Also 'Tell Me It's Real 2!! I may pass out from the excitement, Sandy is going to own Darren I just know it!