It be rude not to read this. I mean who can say no to unicorns? Part of
Weird Shit Wednesday
My thanks to
Susan
for bringing this to my attention.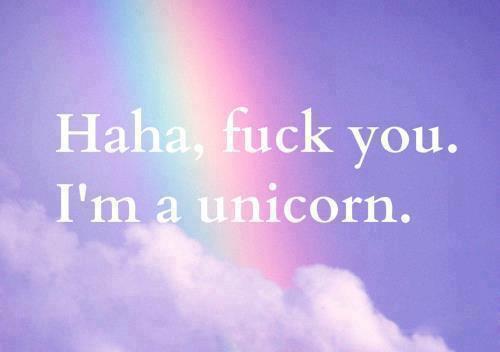 I can't, I just can't. I think I'm dying.
I think it might be because I've not had a Weird Shit Wednesday read in a while but this was hysterical and also well weird.
Mario is a moron with anger (so he says) issues.
Kirk is a unicorn on a motorcycle.
They fall in instalove and do some stuff that I have some questions about.
EDIT
My main question though, does this look at all familiar?
Nick kindly explained to me why lube is not needed.
Silly me forgot bout the rainbows.
Mario's family end up riding his boyfriend around the reception at his brothers wedding.
As one does.
4 stars for all the laughing. Laughing is good for you but you will look stupid if you are a unicorn.